"The Key to great design is capturing the spirit of the client and the essence of the space"
Living room is the space our family unites together, living area is the space where all we want is a Luxurious effect. TV Unit, False ceiling, proper lighting, colour.
The space should be well designed to attain a peaceful sleep & spending quality time. the following are essential for bedroom interior Bed, Bed side table, Wardrobe, Walk-in Wardrobe, dressing table.
The perfect kitchen you will attain through kitchen rule triangle, creating a be spoke look that oozes luxury ca be achieved with our range of Classic kitchens, there are different types of kitchen based on your home we will suggest you which will suit it better. Indian modular kitchen needs much storage space based on workability. we are providing in various finishes like Laminate, veneer, Acrylic, High-Gloss Laminate, lacquered glass, etc.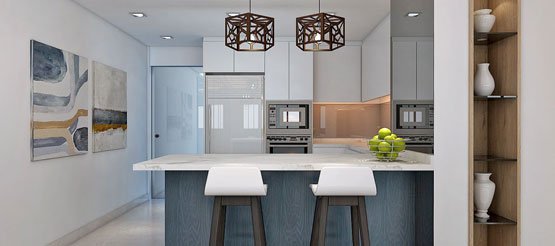 Dining area should serve as the hub for family meals, get together memorable dinners. Dining area should be calm & pleasant, crockery unit storage for dining area, dining table, chair, decor items should be taken care.
Kids bedroom should be vibrant & creative. Child should be safe & surrounded by healthy environment; our interior will keep your kids happy. ceiling design should twinkle the lighting at night time they love their bedtime, Bed, bunk bed, Color choosing, wardrobe, wall covering, flooring, theme-based interior, lighting should be taken care.